Buddhist Meditation and Other Retreat Centres in the UK
Retreats offer the benefit of getting away from the stresses and strains of everyday life.
See also
Events And Workshops
Retreat provide a space in which to return a sense of self, calm, and normality. The form and style of retreat varies but generally they provide the opportunity to be in a quiet environment, often with some form of meditation practice. Some however are communities offering workshops, healing, and a safe space in which to recover. Retreats have been around for centuries and are usually linked with spiritual and personal development. It is advisable to check with the organisers to see what form of retreat is being offered at any given time.
If you still do not find what you are looking for try a general search for "meditate" or "retreat".
Recommendations
Meditation Cushion, Support Cushion - Zafu Buckwheat filling.
A zafu meditation cushion customarily used in Buddhist tradition. Made from strong 100% cotton drill filled with organic buckwheat hulls. Features a hidden pleat to allow removal of the filling in the event of the cushion requiring to be washed. The Zafu has an integral carrying handle for easy carrying.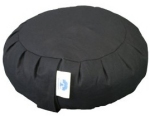 Click to Order UK
Click to Order US
---------------------------------
The Good Retreat Guide
Stafford Whiteaker
A directory of retreats - This book contains a wide range of information on retreats, it provides an explanation of the purpose of a retreat, what happens there, the differing kinds of retreats available, and the benefit of spiritual exercises. Now in it's 5th edition.


Click to order UK
Click to order US

Feedback Call:0208 144 0451